Andersen Library Building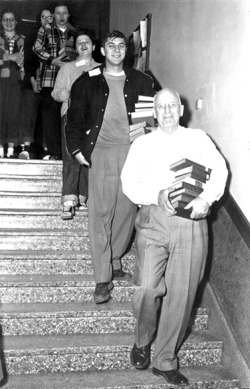 The second oldest academic building on campus, Andersen Library was named in honor of Harold G. Andersen. Harold Gilbert Andersen (1896-1979) was president of the First Citizens State Bank in Whitewater and represented Whitewater State Teachers College on the Board of Regents from 1947 to 1960. He was a 1917 graduate of Whitewater Normal School. Up to the time the new Library on campus was built and named for Mr. Andersen all of the state college libraries had been housed in the various "old main" buildings on the various campuses. Mr. Andersen was instrumental in convincing the Board of Regents that a new building was needed at Whitewater. Whitewater became the first college in the System to have a separate library building.
Ground breaking for the new $725,000.00 building was at 2:00p.m. April 9, 1951. Moving day into the new building was Wednesday, February 25, 1953 when students and faculty carried the 41,000 books in relay fashion from the 3rd floor of the west wing of Old Main with President Williams carrying the first load of books.
The original building now houses the Instructional, Communication & Information Technology offices, Andersen Computing Lab, and Center for Students with Disabilities. The library is housed in the south wing addition, built in 1966, which was itself added to in 1970. Extensive internal renovations were done in 1989 and 1995, creating the modern facility we see today.